Dynamic Duo
Mother and daughter team Anna and Talia are passionate about design. For their first collection of entertaining and decorating pieces, the talented co-founders introduce designs that are fun and fresh, and celebrate casual moments at home.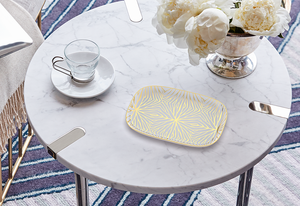 FEATURED IN CURATEUR
Catchall Tray
Whether you decide to add a splash of style to your work from home setup, or need to spice up your bedside table—look no further than our Catchall Tray. Perfect for showcasing your favorite sweet treats, jewels or for keeping your favorite beauty products nearby.
Shop Now
"
Absolutely unparalleled design and service. I'm confident that this company will be the next big thing in home.

"
Collection Inspiration
Giant Lily Pad
Our Lily Pad Collection is inspired by the organic branching of the Giant Lily Pad, a surprisingly delicate, yet strong, plant from the Amazon. Patterned in 24K gold, these pieces are designed to bring celebration to your table.